One of the unique dishes of the Island of São Miguel in the Azores is the traditional "cozido das Furnas", a geothermal meal. The cozido is a very complete dish that consists of various meats (bacon, chicken, chouriço, pork, mourcela blood sausage) and vegetables (cabbage, potatoes, kale, carrots, etc). Its popularity doesn't rely in its ingredients, but in the way it cooks naturally.
The meal usually is seasoned and prepared one day before. In addition, the locals cut the ingredients in medium portions and place them in a pot, making sure to alternate layers of meats and vegetables. The last and top layer includes the blood sausage and chorizo, rolled in a cabbage leaf. Afterwards, they cover the pot with the lid and tie it with a rope. Experts reccomend to put it inside a plastic bag, to preserve its juices.
Early next morning, they place the pot inside a hole at the "Caldeiras" from Furnas. For 5 to 7 hours the meal cooks slowly by the volcanic steam, as a result its texture and flavor are very unique. The experience of watching the process and then trying the food, is something we can assure you have probably never seen or tasted before. Definitely something worth trying and something we make sure our clients try on their visit to the Green Island!

Here is a video of the process of the cozido:
The traditional "cozido das Furnas" comes from Furnas Valley:
Furnas is located in the easternmost of three active volcanoes on the island of São Miguel, therefore all its historically Volcanic activity. The village is dotted with boiling water springs and mud springs. It has as strong sulfuric smell and clouds of vapor that emerge from the hot bubbling springs. Something very impressive to watch!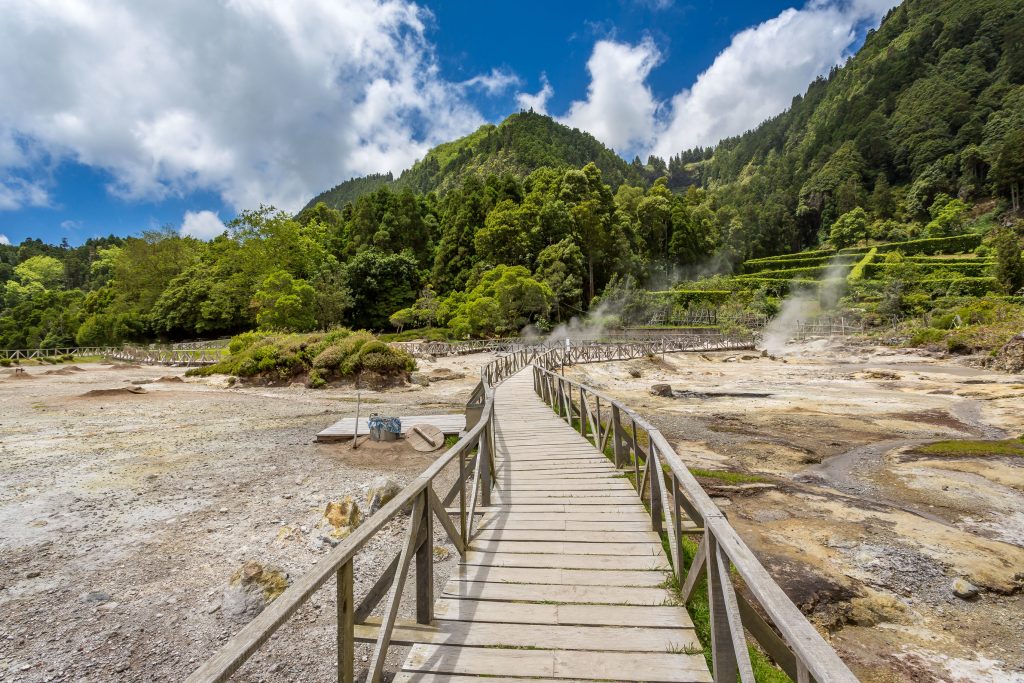 We know our clients love the experience and the "cozido" so much that we make sure to include them as a full day tour in the following tours:

Azores Nine Island Tour
Best of Lisbon and Azores Tour
Azores Discovery Tour

If you would like more information or to add an individual "Cozido Experience" to your tour, don't hesitate to reach out to us!