Porto's São Bento Train Station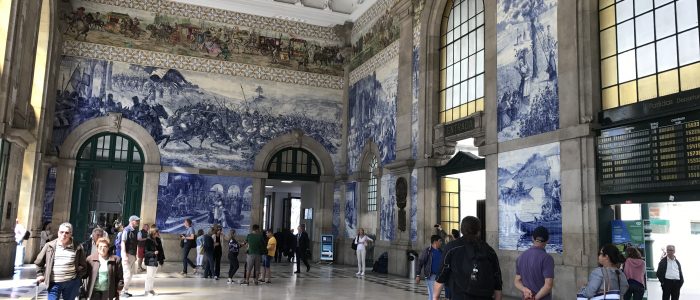 The São Bento train station in Porto has a lot of history to tell. Built in 1900, this magnificent station was named after the Benedictine monastery that occupied its space back in the 16th century. Destroyed by fire in 1789, the monastery was rebuilt but in the 19th century it was torn down to make way for the railroad system. Its first stone was laid by King Carlos I and it was built by architect José Marques da Silva.
The azulejo work began 5 years after the station was completed. It took Jorge Colaço 11 years to paint the magnificent 20,000 tiles depicting Portugal's and Porto's history. Some of the epic scenes include: the Battle of Valdevez (1140), the meeting of the knight Egas Moniz and Alfonso VII of León (12th century), the arrival of King John I and Philippa of Lancaster in Porto (1387) and the Conquest of Ceuta (1415).
We offer the following escorted tour to Porto:
Porto and Lisbon Tour
If you would like to inquire about an individual tour, please contact us at:
1-508-678-9093
1-888-678-9093 (Toll Free)
E-mail
[email protected]