2019/2020 New Years in Madeira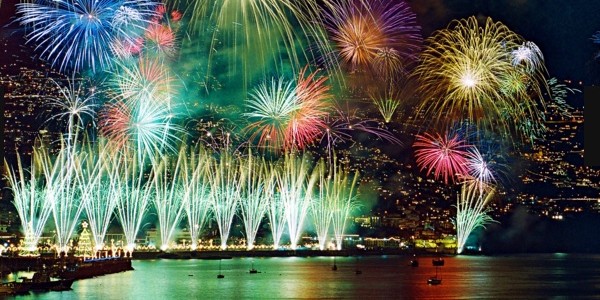 The island of Madeira is known for its natural beauty, mild climate and hospitable friendly people. Our two full day tours with lunch  cover all important points of interest of the island, visiting towns of Câmara de Lobos,  Porto Moniz, Santana, Camacha, Machico, as well as others points of interest of the Madeira Island.
This New Years Tour offers you the opportunity to explore the city of Funchal or spend a day of leisure by the pool side. Each evening you will have the opportunity to experience local and international cuisine as well as New Year's  Dinner at your hotel or at nearby restaurants.
After dinner, you along with other travelers scout for the best view point to see the magnificent firework display that is projected from the hills, barges and all around  the city of Funchal. Ring in 2020 in the warm, friendly Island of Madeira.
Features:
Round trip airfare from Boston to Funchal, Madeira (stop over in São Miguel)
Round trip transfers from the airport to the hotel
6 nights stay at centrally located hotel
Full American breakfast daily at the hotel
Half day tour of Funchal including lunch
Full day tour of Porto Moniz including lunch
Full day tour of Santana including lunch
Two dinners (New Years Eve Dinner at local restaurant and Folkloric dinner)
General Conditions:
Rates are per person, based on double occupancy
Please call for single supplement pricing
Inclusive of taxes of approx.$200.00
Itinerary
Day 1
Evening departure aboard SATA INTERNATIONAL for our transatlantic overnight flight to Funchal. Dinner will be served onboard accompanied by a selection of Portuguese wines to complement your meal.
---
Day 2
Morning arrival in Funchal with transfer to your hotel, after collecting our luggage. After dropping off our luggage at the hotel, we meet for lunch followed by half day sightseeing tour of Funchal. (L)
---
Day 3
Today's full day tour is to the Western part of the island of Madeira. We begin by taking the Estrada Monumental to Camara de Lobos; we then cross the island in a south to north direction passing along the steep coastline until we arrive in Porto Moniz where lunch will be served. On our return to Funchal we will pass through Sao Roque do Faial, Ribeiro Frio, (to visit the trout fishery), Terreiro da Luta and onto the Monte before returning to our hotel in the early evening. (B, L)
---
Day 4
Today is our full day tour of Santana. Santana is characterized by small thatched triangular houses and is a beautiful village on the north coast. These small houses built of natural stone and thatched with straw have served the locals for centuries as stables and dwellings. (B, L)
---
Day 5
Today is New Year's Eve. This evening you have two options for New Year's Eve dinner. Dinner is at a local restaurant, returning to the hotel to view the splendid pyrotechnic display and enjoy the rest of the night. (B, D). In the evening there will be a gala dinner at your hotel with dinner, shows, dancing, and champagne at midnight, with fireworks (optional $350 per person). (B, D)


---
Day 6
Happy New Year!!! The day is at your leisure to explore the town of Funchal. (B)
---
Day 7
Morning is at your leisure for last minute shopping and in the evening a Madeira style dinner of "Carne de Espeto" will be served accompanied by typical Madeira food and we will be entertained by a local folklore group. (B, D)
---
Day 8
Today we return back to Boston, with our memories of Madeira Island. (B)
---
CALL 1-888-678-9093 TO BOOK YOUR TRIP NOW!