Please login to add your wishlists.
Enjoy 7 nights stay in the Azores. The Santo Christo Feast is the most important religious festival in the Azores. Every year, thousands…
Rates: Rates are per person, based on double occupancy (inclusive of taxes of approximately $154.00) Single Supplement: Single supplement is additional, please contact for more info. Deposit: A deposit of $300.00 (non-refundable) per person is required to book
Overview
Trip Outline
Trip Includes
Trip Excludes
Gallery
Booking
FAQ
No details found.
Itineraries
Day 1
Date : May 5, 2021
BOSTON/PONTA DELGADA
Evening departure aboard AZORES AIRLINES for our transatlantic overnight flight to Ponta Delgada. Dinner will be served on board accompanied by a selection of Portuguese wines to complement your meal.
Day 2
Date : May 6, 2021
PONTA DELGADA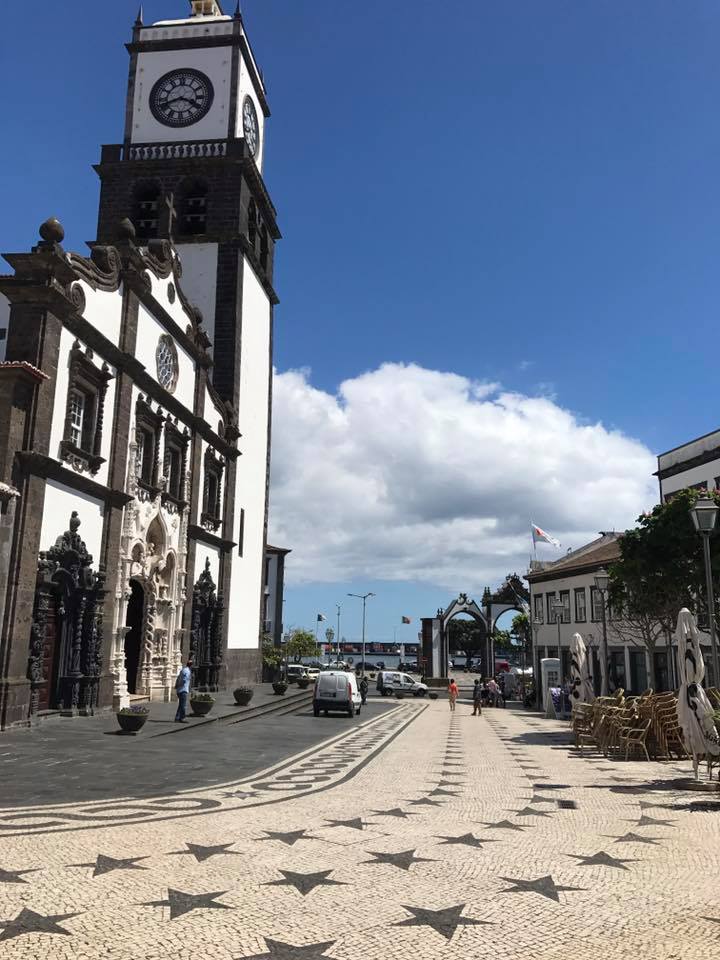 We will arrive in the early morning at João Paulo II Airport in Ponta Delgada. After clearing customs, we will be transferred to your hotel. The rest of the day is to rest and relax from the overnight trip and for you to explore the city of Ponta Delgada.
Day 3
Date : May 7, 2021
PONTA DELGADA/FURNAS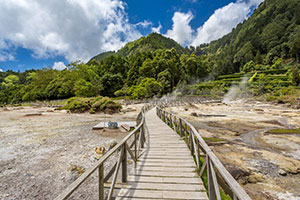 Today we will be off on our first full day tour. We begin by traveling along the southern coast heading toward Vila Franca where we will stop to sample some "Queijadas da Vila". We will also stop at the pottery factory in Lagoa, followed by stops at scenic points along the coast. We then head towards the Lagoa das Furnas to view the geothermic ovens that cook the traditional cozido, afterward we head towards the village of Furnas where lunch will be served. After lunch we will walk around the village to view "Caldeiras", then depart the village and make our way north stopping at the scenic points of "Pico de Ferro", "Salto do Cavalo" and Ribeira dos Caldeirões in Nordeste. On our return to Ponta Delgada, we will make a stop at the Gorreana Tea Plantation, one of the oldest tea plantations in Europe and we'll be able to sample their teas. (B, L)
Day 4
Date : May 8, 2021
PONTA DELGADA/SETE CIDADES/LAGOA DO FOGO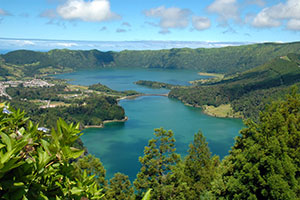 Today we will be off on our full day tour of Sete Cidades and Lagoa do Fogo. We begin by making a short visit to a pineapple plantation. There we will see how the pineapple is cultivated, followed by a sampling of the pineapple liquor. We then proceed to visit the Lagoa dos Canarios and Lagoa de Santiago. After that we make a climb to the famous "Vista do Rei" for a panoramic view of the two lakes of Sete Cidades. A typical lunch will then be served. After lunch, we head to the Lagoa do Fogo, making stops in Ribeira Grande and Caldeira Velha. At the top of Lagoa do Fogo we are able to see both the north and south coasts of São Miguel and in the evening We will head to "Solar da Graca" restaurant, where we will have dinner, followed by an Azorean Folkloric dancing show. (B,L,D)
Day 5
Date : May 9, 2021
PONTA DELGADA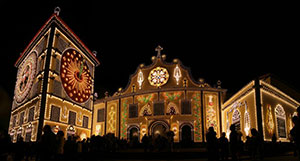 PONTA DELGADA
Today the city of Ponta Delgada becomes alive with activities. In the afternoon, there will be a Procession of Senhor Santo Cristo around the Campo de Sao Francisco. In the evening the statue of Senhor Santo Cristo will be relocated from the igreja da Esperanca to Igreja de Sao Jose, the festivities will continue late into the night. (B)
Day 6
Date : May 10, 2021
PONTA DELGADA
In the morning the streets of Ponta Delgada become decorated with greens and flowers for the afternoon procession. At four in the afternoon, the procession begins in front of the Convento da Esperança and continuing throughout the streets of Ponta Delgada returning to the Convento da Esperança in the early evening. We will meet after the procession for dinner. (B, D)
Day 7
Date : May 11, 2021
LEISURE DAY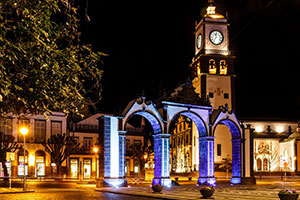 Today is a day of leisure before our trip back home or if you prefer a shopping day in the city of Ponta Delgada. (B)
Day 8
Date : May 12, 2021
PONTA DELGADA/BOSTON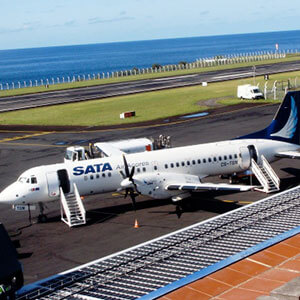 Today we say goodbye to the beautiful island of Sao Miguel. We hope that on the flight back you reminisce of the good times that you had on the trip. (B)
Round trip airfare from Boston-Ponta Delgada on Azores Airlines
Round trip transfers from the airport to the hotel
Six nights stay in Ponta Delgada
Full day tour of the eastern side of the island (Furnas) including traditional lunch (Cozido)
Full day tour of the western side of  São Miguel island (Sete Cidades and Lagoa do Fogo) including lunch
Two dinners (Folkloric Dinner and Sunday Dinner)
Breakfast Daily at your hotel.
Airline fair taxes and single supplement not included.
Pricing Name

Start

End

Group (Min-Max)

Pricing
Portugal and Madeira are on GMT time, or five hours difference between the east coast of the US. The time in the Azores is four hours ahead of Boston, and seven hours ahead of San Francisco.
Portuguese is the official language of Portugal and its islands. Most hotels, stores and restaurants have English speaking employees or menus written in English.
Portugal and its islands use the euro as its currency. You can exchange money at the airport, or in the major cities/towns.
Most major credit cards are accepted, just look for a sign that says "Multibanco" or the credit card sticker in a shop or restaurant window. When paying by credit card they will bring you a handheld machine that they insert the card or swipe. Just remember to press ok if you accept, as most times it will ask for a PIN.
Gratuities are common in Portugal and its islands, though not as common as the US. Below is a suggested guide as to what to leave behind as a gratuity.
Restaurants: Expect to leave a few euros of change of gratuity, as 15%-20% is not common.
Tour Guides: 5-10 euros tip per person on a full-day tour. Tour Bus Drivers: 2-5 euros tip per person on a full-day tour. Cab Drivers: No gratuity needed.
Electricity in Portugal and its islands is 220-240 volts, and it uses a different socket/outlet compared to the US. Check the voltage accepted, with whatever device that you use, should the device be built for that type of voltage, then an adapter would be needed to charge the device.
Portugal and its islands have many places to connect to the Internet. Most hotels have an Internet /Wi-Fi connection and provide you with the password to connect. Restaurants and cafes also have connections, though password protected, just be sure to ask for the password. Also, in some towns, there is a local Wi-Fi, where it is free to connect.
Please check with your cell phone provider. Mention that you are traveling to "Portugal" and they can let you know if you have coverage with your phone. You can also purchase a prepaid cell phone in Portugal, the cost is about 25 euros, and it provides you with a Portuguese number and a certain amount of credits to make calls. Some providers even have specials where the calls are free to landlines.