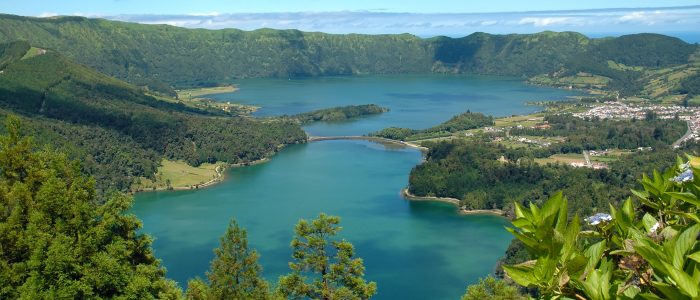 São Miguel is a nature lover's paradise! Admire its lush vegetation, volcanic scenery, breathtaking scenic views, marvelous waterfalls and relax on its epic hiking trails and hot springs. You'll also indulge tasting its traditional cuisine to make the most of your experience in the Green Island.
Included in the land package:
6 nights stay in Ponta Delgada at a four star hotel
Full American breakfast daily at the hotel
Full day tour of Furnas including its traditional cozido lunch
Full day tour of Sete Cidades/Lagoa do Fogo including lunch
Full day tour of Nordeste including lunch
Round trip transfers from airport to hotel
Hotels:
Ponta Delgada, São Miguel: Royal Garden Hotel or Hotel do Colegio
General Conditions:
Rates are per person, based on double occupancy (land package)

Single supplement is an additional $400.00

Rates are subject to hotel availability and are only guaranteed when paid in full.
Itinerary
Day 1
Evening departure aboard Azores Airlines for our transatlantic overnight flight to Ponta Delgada. Dinner will be served on board accompanied by a selection of Portuguese wines to complement your meal.
---
Day 2
You will arrive in the early morning at João Paulo II Airport in Ponta Delgada. After clearing customs, you will be transferred to your hotel. You will have the rest of the day to rest, and relax.
---
Day 3
Today we will be off on our first full day tour. We begin by traveling along the southern coast heading toward Vila Franca where we will stop at the Pottery Factory in Lagoa, followed by stops at scenic points. We then head towards the Lagoa das Furnas, to view the geothermic ovens that cook the traditional cozido, afterwards we head towards the village of Furnas where lunch will be served. After lunch we will walk around the village to view "Caldeiras", then depart the village. On our return to Ponta Delgada, we will make a stop off at the Gorreana Tea Plantation, one of the oldest tea plantations in Europe, and we'll be able to sample their teas. (B, L)
---
Day 4
The day is at your leisure. You have the option of taking a half day hiking/walking tour, or even a whale watching tour from your hotel (B)
---
Day 5
In the morning we depart to the Northeastern part of the island, simply called Nordeste. Our first stop is at the nature park of Ribeira das Calderoes, known for its water mill and several waterfalls. We then proceed to the village of Nordeste to see the town. Afterwards we head to the eastern most point of the island "Ponta do Arnel" observing the small fishing port and its lighthouse. We then proceed to the town of Povoacao, but first making stops at the viewpoints of Ponta do Sossego and Ponta da Madrugada, with its views of the ocean and mountains. Once in Povoacao, we stop to have lunch at a local restaurant. After lunch we make our way around the village, which was first settled in 14th century. We return to Ponta Delgada via the southern coast, afterwards. (B)
---
Day 6
Today we will be off on our full day tour to Sete Cidades and Lagoa do Fogo. We begin by making a short visit to a pineapple plantation. There we will see how the pineapple is grown and cultivated, followed by a sampling of the pineapple liquer. We then proceed to visit the Lagoa dos Canarios and Lagoa de Santiago. After that we make a climb to the Vista do Rei for a panoramic view of the two lakes of Sete Cidades. A typical lunch will then be served. After lunch we head to the Lagoa do Fogo, making stops in Ribeira Grande and Caldeira Velha. At the top of Lagoa do Fogo we are able to see both the north and south coasts of São Miguel (B, L)
---
Day 7
The day is at your leisure. You have the option of taking a half day hiking/walking tour, or even a whale watching tour from your hotel (B)
---
Day 8
Today we say goodbye to the beautiful island of Sao Miguel. We hope that on the flight back you reminisce of the good times that you had on the trip. (B)
---
CALL 1-888-678-9093 TO BOOK YOUR TRIP NOW!